Bypass engagement rings have straps that overlap and separate rather than form a classic, continuous line. Bypass engagement rings are among modern engagement ring styles. The bypass engagement ring was first introduced in Victorian times with a beautiful meaning; the overlapping lines designed in the bypass engagement ring symbolize the bonding of two people as one. Since the lines overlap and have their own lines, this engagement ring also shows that each line has retained its individuality.
A variety of bypass engagement ring styles
The most common bypass engagement rings have a middle gemstone connected by a stream of two separate lines of metal tape. The line is divided into two parts, and even though they are not connected at the end of the loop, they still hold the center stone together. Another change in this style is that the setting is separate but still connected by metal and creates a mesmerizing gemstone view that displays a beautifully sized asymmetrical loop perspective. A bypass engagement ring designed with two stones is commonly called a "me and you" ring. The naming originated in France, and the most common design is to split the metal with two diamonds or precious stones representing each individual in the pair. The bypass ring design is not just for engagement rings. Even elegant wedding rings are made of bypass style.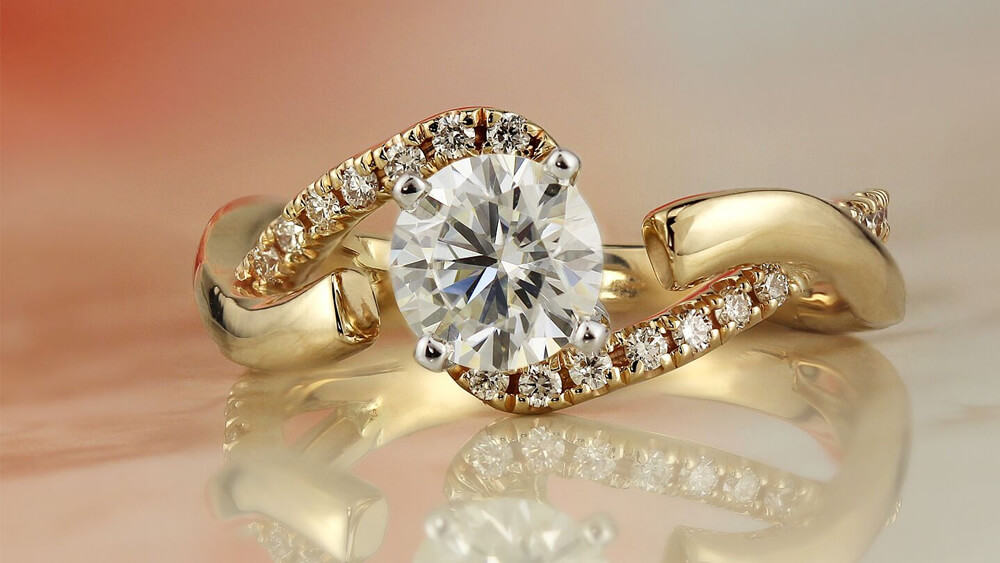 Do I have to buy a bypass engagement ring?
Bypass engagement ring style is excellent for people who love a unique and stylish design. Since the bypass rings are designed in various types, you will indeed find a design that suits you, regardless of your taste. Whether you prefer a modern bypass engagement ring, a classic vintage style, minimal design or showy style, the bypass ring design can be to your liking.
Bypass rings design
Bypass engagement ring designs are usually considered modern and almost futuristic styles. They were first introduced in early 1800s and have become very popular over the years. They implement a wide range in design with a variety of appearances and prices. The strips can be set with diamonds or gemstones or can be plain twisted metal. They can also bend adequately, create wide arches or even partly embrace the gemstone or diamond with one or several rows on each side.
The popularity of bypass engagement rings
The bypass engagement rings are trendy among the young couple who follow the trend because there is a lot of room for customization of the design. Some bypass engagement rings structure has extra coated diamonds positioned next to each other, while others have larger diamonds placed in the center or between the ends. The bypass design was much more prevalent in early 1900; however, due to the modern style of the bypass ring, they are still favorable among people who seek unique engagement rings.
Bypassing rings as a fashion trend
Bypass design is not limited to creating elegant engagement rings, and the style is also one of the fashionable trends. The various twists and turns of bypass style give the rings a sophisticated but stylish and modern look that many women love. The fashion bypass rings could be made with no stones, one or two middle stones or several small gemstones. The various metals in these rings are white gold, platinum, rose gold or yellow gold. Despite the variety of bypass engagement rings, it is pretty easy to find an engagement ring that meets your taste standards.