Vancouver's Premier Diamond Wholesale
& Engagement Ring Manufacturer
Located in the heart of Downtown Vancouver we are British Columbia's premier Engagement Ring manufacturers and Diamond Wholesalers. We own the largest physical diamond inventory offering you the widest selection of GIA graded diamonds at the best prices. Visit us to see, compare and choose the perfect diamond for your Engagement Ring.
We pride ourselves in producing the finest Engagement Rings in Vancouver, locally crafted to the highest standards. Naturally, we also offer complementary diamond earrings, bracelets, necklaces and any custom diamond jewelry you can think of.
In the past, our family has exclusively supplied jewelry stores and diamond brokers. Now, we are offering our diamonds to the public. Book an appointment to enjoy a truly unique diamond buying experience.
Wholesale and Factory Prices
Custom Engagement Rings and Diamond Jewelry
Showroom in Vancouver – See and compare diamonds
Certification and Appraisal with every purchase
100% Risk-Free shopping policy
Highly recommend Felix at Diamond Net! I met Felix not even a year ago and he helped me find the perfect engagement ring for my wife within a few weeks. Fast forward a few months to our wedding, Felix once again made my wife and I very happy by creating her a beautiful custom wedding band. Felix is very professional and is always able to get us the best deal on any type of diamonds or jewelry we're looking for. It's safe to say that Felix will be my go to guy for anything I need in the future!

Salil Manga


9/18/2019

My Fiance proposed to me last month with an absolutely stunning custom made ring by Diamond Net. It really is gorgeous, I was in awe when he opened the ring box (it also had a little light shining on the diamond ring which i thought was a nice touch as it gave it the wow-factor) - you can tell that Diamond Net have a higher quality of diamonds from other rings that I've seen out there with a similar design. The resizing process with Felix was seamless as well, and he makes sure that it gets polished whenever I pop by to make it sparkle even more! Amazing service, very easy to work with and high quality products... Can't wait to get my wedding band made with Diamond Net. Thank you for helping my Fiance create my ring 🙂

Jordan Townley


10/24/2019

Felix came highly recommended to me by two friends who purchased their engagement rings from him. He definitely surpassed any expectations I had! He patiently worked with me and my lack of diamond knowledge, and guided me to the right stone that ended up blowing my fiancé away!! Compared to other jewellers, the quality of his selections for the price are unparalleled. I cannot express how pleased I am with my experience with him! Thank you Felix! See you for the wedding bands!

Dimo .


5/11/2020

Highly recommended! Simply put, Felix helped me find the perfect diamond for my engagement ring and I couldn't be happier. He worked within my budget and didn't at any time try to up-sell or rush/pressure me. This was a wonderful consumer experience! Oh and did I mention, she said 'YES'! Thank you for all your help Felix!

Anthony Sy


7/01/2019
I just bought an engagement ring from Felix. He was very knowledgeable and gave me many options to choose from. We settled on something that fit my budget perfectly and my girlfriend (now fiancé) is very happy with it. The prices here are far better than you will find anywhere else! Literally a no brainer if you're in the market for a diamond.
My fiancé worked with FELIX for my engagement ring and it was nothing short of spectacular. I get stopped daily by people commenting on the design and the quality of the diamond. My fiancé enjoyed the professionalism of FELIX and the team so much we came back to purchase our wedding bands… My now husband and I will be returning customers to DiamondNet for years to come.
Felix made my engagement ring. He showed me a wide assortment of diamonds in his office that met my budget. I settled on one, but then I changed my mind the next day, and he accommodated me and found a few that met my new specs… I picked one, and when I went in to take a look, it turned out perfect! Great service, lots of patience, and great prices! A pleasure to work with.
My fiancé and I searched for the perfect engagement ring for over a year. I came across DiamondNet and was impressed with the selection online, and even more impressed with Felix' help in offering even further options beyond what was online. By doing so, Felix managed to provide us with a stunning diamond of superb quality at a very great price…. We will definitely be back for wedding bands, anniversary rings, birthday and more!
I recently purchased both my fiancé's engagement ring and both of our wedding bands from Felix at DiamondNet. The service provided from this business is excellent; from price, all the way to how they accommodate and educate you through the entire buying process. I would highly recommend anyone looking for custom engagement rings in Vancouver to look here.
It's hard to tell the difference between all the stones sometimes but here you look at a bunch of stones one after the other to compare them. Service was professional and the ring was crafted on time. I value the fact that it I didn't feel pressured/pushed to buy anything during my first visit, unlike other places I shopped at…Would recommend DiamondNet and definitely would recommend Felix!
Hi Felix
She said "YES!!" … and she LOVES the ring! You guys did an amazing job! Again, just wanted to say thank you very much for your help.
This was an amazing experience, glad I chose to go with you guys.
DIAMOND EDUCATION AND GUIDANCE
At Diamondnet, we believe an educated client is a valuable client. Without a basic diamond literacy and understanding of how these precious stones are evaluated, it is impossible to grasp the quality we produce with each product.
Many people are introduced to the "4 C's": Carat, Colour, Cut and Clarity, and this is as learned as they ever become on the subject of diamond differentiation.
These four factors were emphasized by buyers and sellers of diamonds for years, when in reality, the 4 C's hardly scratch the surface (diamond pun intended). We are excited to deliver full-spectrum knowledge of our diamond selection – engagements rings and beyond – ensuring you love and understand your selection.
DIAMOND CARAT
The weight of a diamond is measured in a unit known as a carat. Simply put, the larger the diamond, the greater its value. Situations where the weight of multiple diamonds is equal and the prices significantly different is the result of variance in cut, clarity, and color.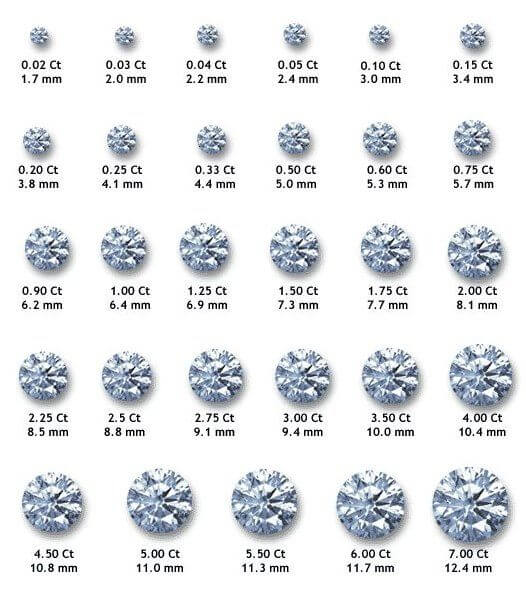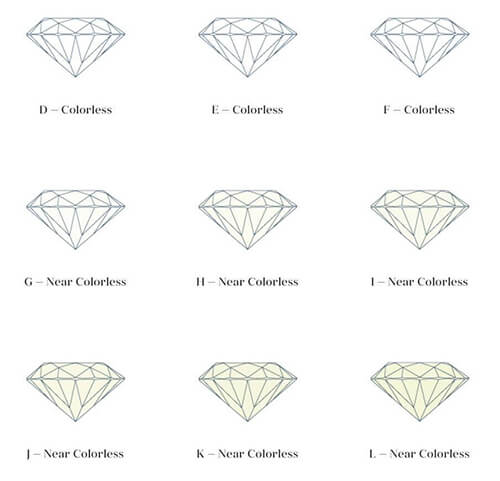 DIAMOND COLOR
The scoring of white diamonds ranges from D to Z, with the most sought-after stones for engagement rings and other diamond jewelry falling between D and K. This range is so highly coveted due to the appealing white color the diamond adopts when mounted. Diamonds of unique or eclectic colors are the result of pigment concentration and range beyond Z on the scale. With such bold presentation, this category of diamond is often considered equal or more valuable than their colorless comrades
DIAMOND CLARITY
Our preferred option for diamond certification is GIA (Gemological Institute of America), the highest diamond standard. We do offer EGL and AGS certified diamonds; however, we state clearly that we believe the latter represents a less credible choice.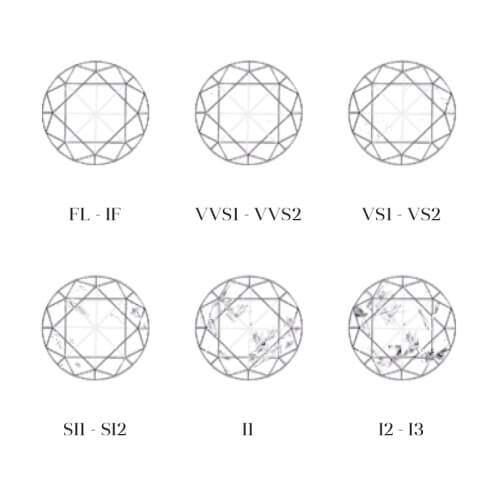 DIAMOND CUT
While these components are all important clues as to a diamond's worth, the cut is certainly the quintessential factor. An ideal cut will override all other details and is understood to maintain value over time, quite often at a price that reflects its excellence.
The engagement ring is a symbol of commitment and loyalty between men and women. No one knows who first thought of the wedding or engag...