Gold has always been a precious metal and used for many purposes but its use in engagement ring is more common than others. Until, at some point in history someone was tired of yellow gold so started blending other metals with it to create colorful alloys and that is how rose old was created!
In this article, we will explore Rose Gold history and all the ways you can design a unique Rose Gold engagement ring and love it too!
What is Rose Gold?
Rose Gold is nothing new because it was invented and used in 19th century Russia where Carl Faberge made his infamous Faberge Eggs. It used to be called Russian gold until it gained popularity in United States in 1920s thanks to Cartier who started creating luscious Rose Gold jewelries coupled with Diamonds. Their three color gold "trinity ring" in particular raised the popularity which was commissioned by Jean Cocteau, the famous French writer and artist who wore the ring on his pinkie! Since then, Rose Gold has been a key trend in fashion and jewelry industry following many ups and downs. Today, Rose Gold is having a strong comeback worn by celebrities and couples.
Rose Gold also known as Pink gold or Red gold is the same yellow gold that has copper and silver metal blended with it. They are added to strengthen pure gold because it is too soft and vulnerable to be used in jewelry making. They also contribute to the color change and the more copper there is in the blend, the redder the alloy will become.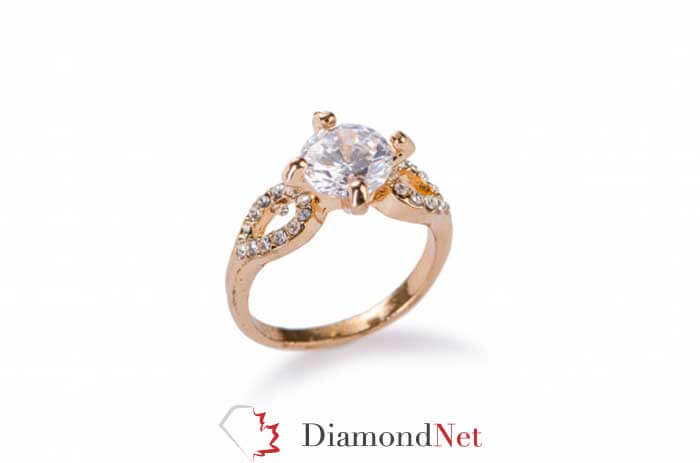 18K Rose Gold consists of 75% pure gold, 22.2% copper and 2.8% silver while 14k Rose Gold has 58.30% pure gold, 33.5% copper and 8.20% silver. It is also referred to as "parts" of the gold within any given piece meaning 24k gold is 100% gold but 18k gold has 18 parts gold and 6 parts alloy. The highest karat of Rose Gold that can be created is 22k known as crown gold.
Rose gold is very durable compared to yellow or white gold because copper is one of the strongest metals that is even used in construction projects. But the same reason makes Rose Gold more affordable and if you buy it from a wholesale Diamond dealer, your savings will be even higher!
Rose Gold is also the most romantic metal due to the pinkish hue that is associated with romance and femininity.
How to incorporate Rose Gold in your engagement ring?
When designing your engagement ring with Rose Gold in mind, you need to consider a few factors: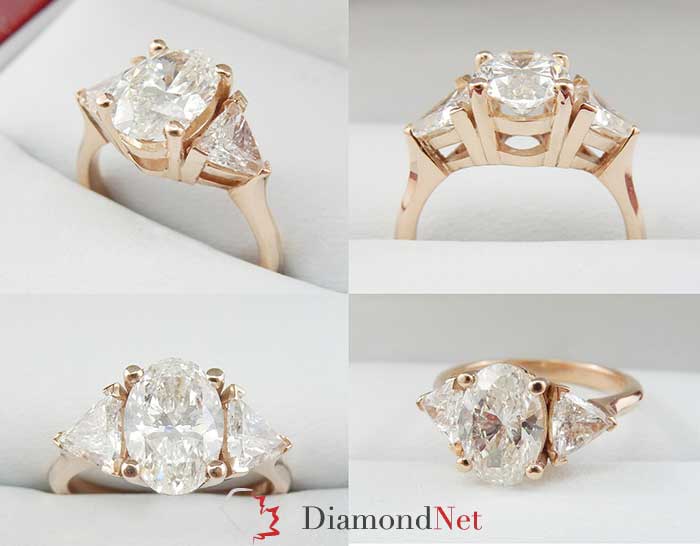 The first factor is your style. Rose Gold is a modern invention but due to the pinkish hue of copper, it has vintage element to it. That is an advantage of course because you have creative freedom to play with your Diamond properties as described below to create either a modern or antique look.
Your skin tone is the next factor. The pinkish hue of Rose Gold easily complements the fair, dark and any other skin color in between depending on the Diamond color you choose. If your skin tends to have pink undertone, Rose Gold will be a natural match but with a darker skin, it creates a beautiful contrast unlike anything else. Colorless Diamond just amplifies this matching or contrasting character while fancy colored diamonds can shift it on the contrasting spectrum.
Diamond shape and cut play an important role as well. A round, trillion, square and rectangular Diamond shape on Rose Gold band will look modern and sleek while an oval, heart, pear and marquise will have more of a vintage feel.
The setting is also indicative of the overall look of your ring. A solitaire, channel and swiss setting on rose gold band are contemporary but halo, cathedral, split shank and 2-stone settings will look vintage.
The color of your Diamond gem is critical in achieving the look and feel you want.
Diamond as you know it, is colorless so it is easy to set it on any metal band but Rose Gold is the perfect match for its white sparkle. This combination projects a soft, delicate and lustrous feeling that is beyond ordinary. It can be made modern or vintage depending on the Diamond cut and setting as described above.
However, fancy colored Diamonds are unique and when combined with Rose Gold band, they become extraordinary in any way possible. The most striking combination will be black Diamond that results in a mysterious looking engagement ring that is not from this world! Black Diamond also has the most contrast with fair skin and Rose Gold acts like the in-between layer balancing the whole look. But in darker skin tone, black Diamond is quiet and instead it is the Rose Gold that has the spotlight. Yellow Diamond will add extra sparkle and a luxury feel.
In a fair skin, this combination is soft and quiet but in darker skins it becomes alive and energetic. Green and blue Diamonds are the most complementary colors to pinkness of Rose Gold that create eye catchy engagement rings. They are contrasting to both fair and dark skin tones that result in a magical feel and a rare look that is not spotted very often on people's hand.
And the last factor is incorporation of other metals. tri-color combination of rose, white and yellow gold is a classic and always popular that not only compliments every skin tone but creates a mystery feeling that is just perfect for unique people. It can also be paired with black metals such as titanium to create radical contrast only if you have radical tendencies!
If you are choosing a Diamond engagement ring from ready to buy items, you will always find a Rose Gold version of almost any item.
Final thoughts
Rose Gold engagement ring is unique just like your personality. It has a dual quality that makes both vintage and modern styles possible so you can have the best of both worlds in your engagement ring. It is easily compatible with different skin tones and Diamond colors that give you creative freedom to design your own custom engagement ring.
An experienced Diamond dealer in Vancouver knows how to incorporate Rose Gold in your Diamond ring to create exactly the look and feel that you want. This engagement ring will be the best match for your character and will remain with your forever.