Once upon a time, there was a Hollywood actress named Audrey Hepburn who was loved by everyone. She was famous for her timeless elegance and grace. She acted in many movies but she is best known for her role in "Breakfast at Tiffany's"!
One day, at a cocktail party hosted by Gregory Peck another Hollywood legend, she met fellow actor Mel Ferrer and fell in love. They shared chemistry and bonded at an instant. They acted in several Broadway productions together and Audrey even won a Tony Award for one of her roles.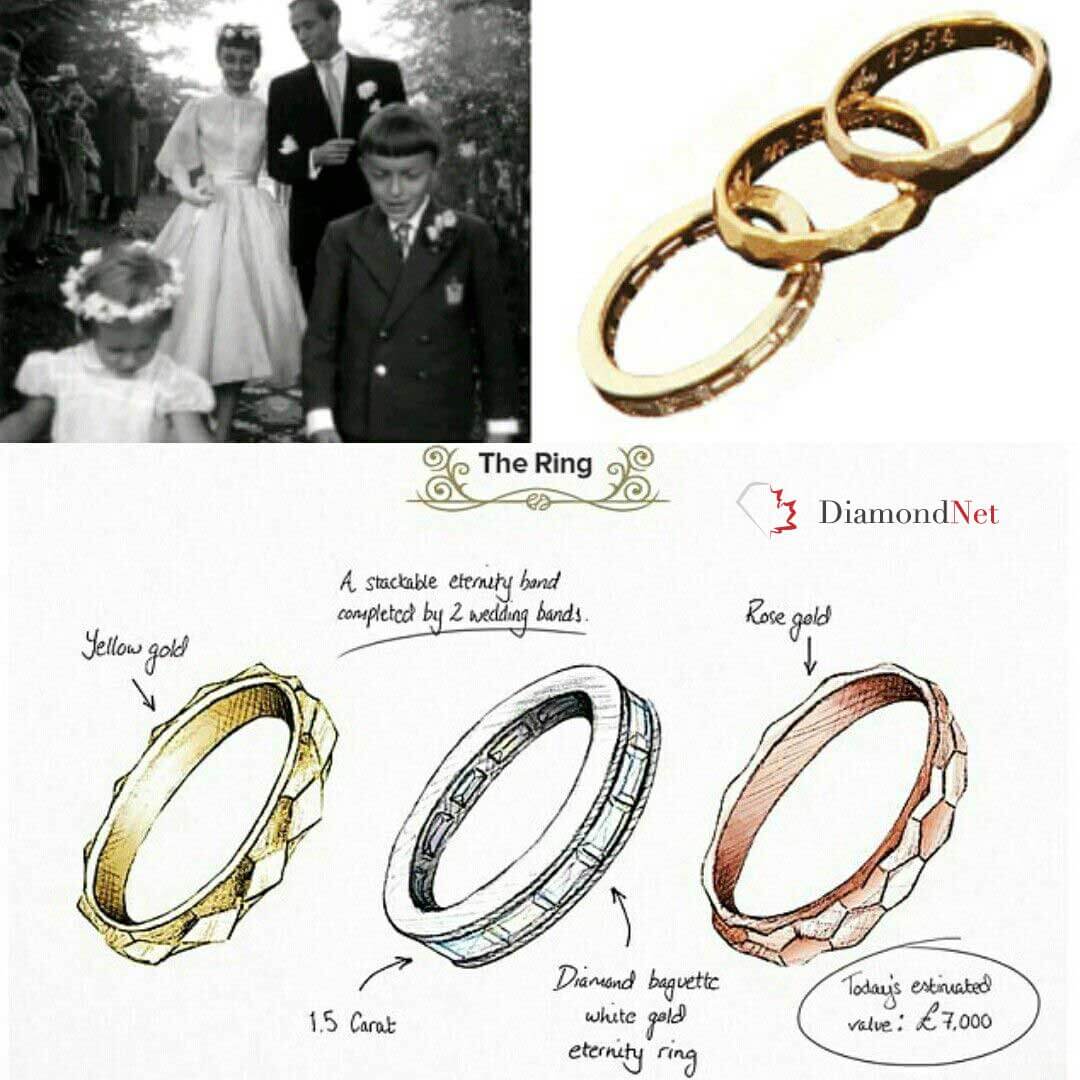 Ferrer decided to propose in 1954 but couldn't decide about the color of the metal band so he bought 3 rings! One in white gold, one in yellow gold and one in rose gold. The white gold one was a svelte platinum eternity engagement ring that featured baguette Diamonds in a channel setting. The other two rings were simple and elegant eternity wedding bands in faceted pattern.
In one occasion, Audrey tried them all on her finger and this is how stacked engagement ring was born! Audrey Hepburn remains one of the most sophisticated style icons of Hollywood while her "stacked engagement ring" trend remains popular more than ever.
In this article, we will review how to build a stacked engagement ring so you can create your own that is most reflective of you.
How to build a stacked engagement ring?
Stacked ring consists of multiple bands that sit together in a harmonic setting. It includes engagement ring, wedding band and some additional bands. They can be worn separate according to dressing style or they can be permanently stacked by the jeweler to make one big Diamond ring.
You can build it over time as your marriage moves forward in time with significant occasions such as anniversaries that can be memorized by a new band in your stack. The stacked ring can tell a story of your journey through your marriage and all the moments that were special to you.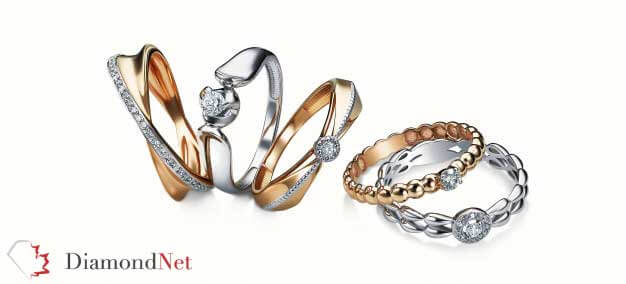 To build your stacked ring, you need to curate a cohesive style consisting of different elements such as stones, metals, colors and patterns that feels right for you:
Design it around your engagement ring
Your engagement ring is the focal point of your stack and its style defines other bands. It acts like a base on which others are layered.
If it has a raised setting like Solitaire, it can be perfectly matched with other flat settings such as a Pavé or a Bezel-set band to let the centre stone has all the sparkle and attention.
But if your engagement ring has a low mounting setting like Eternity or Swiss setting, then in combination with other flat rings, a simple yet elegant flush stack is created that is not about a center stone but the combination of small elements that together create a subdued look. They can become eclectic with small details or can have a clean collected feel.
An all white Diamond stack is the ever classic and popular but you can choose different and go with colored Diamonds to complement the center stone. Black stones can create strongest contrast while light yellow can add subtleness.
Diamond cut is also influential on the look of your stack. While round is easily matched with any style to create a soft look, the 4-sided shapes such as emerald with mirror like facets will dominate the whole group. Sharp pointy cuts such as pear or marquise will also create bold statement that can be matched with a sharp point in the setting or become softer with a smoothed edge band.
Color of metal band can be complementary to center Diamond like white gold or it can create interesting contrast like pink gold.
Diamond size also affects the overall look of your stack as a very large center stone can undermine small Diamonds on other bands. So it is a better idea to choose simple stone-free bands to let the large Diamond shine!

Match the wedding band
Traditionally wedding band is simple but when it comes to stacking, you can contour it to curve around or point out to complement the overall shape of your engagement ring.
It can be made by contrasting metals or same color ones. The band can have patterns and engravings to create texture in the stack. They can be a mix of shiny and matte finishes to add interesting light reflection.
Some jewelers offer matched engagement rings and wedding bands that are designed with stacking in mind to perfectly fit the curves and style of each other. So you can consider stacking from the moment you select your engagement ring.
Add layers of new bands
To create a well-curated stacked engagement ring, you should remember the main style at every choice. You are adding your own personality to the ring, so choose what feels like you, every facet of your character, your individuality.
The number of stacking bands depends on you. The traditional combination of engagement and wedding ring is the base but you can add as many bands as you wish.
New bands don't have to be different because multiple numbers of a same band in different profiles are just stylish. But you can try different silhouettes, blend profiles and mix and match. Then try them on and feel the difference.
There might be negative space between the engagement ring and other bands that can be left as a style of its own. Otherwise you can design contoured bands to fill the curves and shapes of each other. Just remember the rings can rub against each other and worn out if selected in straight unfitting shapes.
Final thoughts
A stacked engagement ring is the perfect choice for modern brides who want to experiment different styles. Also for those who want to memorize the journey of their marriage in several rings, each one for a special moment.
You are free to design your own custom engagement ring in stacked style because there is no right or wrong way. The only consistent pattern is your own experiences that lead to a new addition in your stack.
A master Diamond dealer that has a large inventory of rings in Vancouver in wide range of styles and wholesale prices can help you immensely to create your own stacked engagement ring. You have the opportunity to mix and match many options and try them on to find the perfect stacked engagement ring for your individual personality and experiences.