When December comes around, Christmas is the first thing in everyone's mind unless you have been dating for a long time! In that case, marriage proposal probably takes the top spot. Christmas is the most popular time for proposals because it is a magical time when the most enchanting season of the year has the white snow cover the ground, Christmas lights are shining and gifts are exchanged. There is no better gift than a sparkling Diamond ring that represents your true love and commitment, a ring that promises a life long journey together.
The surprised proposal is often decided in the last minute so almost everyone is rushing to find the perfect engagement ring. Obviously it was better to start earlier so you could have plenty of time to find or design the perfect Diamond engagement ring but it is not all lost! An experienced Diamond dealer is always prepared for last minute customers. With the help of a master jeweler you can find the Diamond ring she desires.
In this article, we will guide you through the process of shopping the engagement ring for a Christmas proposal so you know what to expect and how to choose.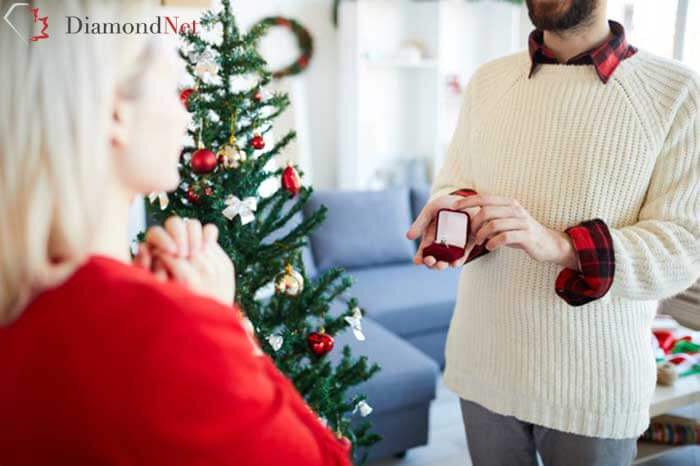 How to choose the perfect engagement ring before Christmas?
When choosing the engagement ring there are some important factors to consider first:
Determine your Budget
Money is a defining factor when buying Diamond because the size matters. You need to decide how much you are able to spend on the engagement ring so the available sizes in your budget range are presented.
Of course there are some tricks that can make a smaller Diamond look larger which is about the cut and setting. Cuts such as emerald with long mirror like facets or even an oval shape can influence the size. Settings such as cluster or halo with additions of small stones can also make the ring look big and eye catching.
Round brilliant is the most expensive cut due to the time required to create complex facets that sparkle more significantly. It has more cutting discards as well. While emerald is more affordable just because it has a simpler cutting process and less discards. A simple solitaire setting also has the least price while more elaborate halo or complex cluster costs more.
Band metal is also influential on the price as Platinum is an expensive metal because of its strength and rarity while Sterling Silver is more budget friendly.
No matter what you choose, remember to insure the ring!
 Define her Style
Since you have chosen this time of the year to propose, it is assumed that you are certain she loves the timing! So she must be sentimental and classic with strong feelings for traditions. Classic style might be the perfect match for her personality. Solitaire is the first candidate. But if she loves the Victorian era or even has some gothic interests, a vintage style with elaborate embellishments is the way to go for her character. A 3 stone or marquise with some engravings on the band are good candidates. A third option is adding modernity to the mix to represent the acceptance of the past and present which is just appropriate for a 2020 proposal! An all white halo or a rare bypass is a good choice for a modern person with some interest in the past.
Be aware though, designing custom engagement ring with elaborate details at this time of the year is hardly achievable because all designers and jewelers are too busy to deliver orders, unless you are lucky of course!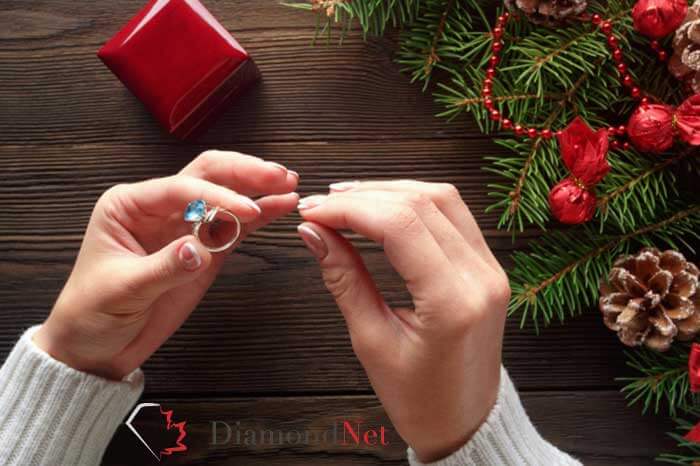 Choose the Cut
Diamond cut is one of the 4Cs of grading which is about the overall shape and facets of the Diamond gem. It has a strong influence on the size of the stone as some cuts such as cushion, princess, ascher, radiant and emerald can make the stone look larger. They have mirror like facets that intensify the sparkle and the 4 corners create illusion of volume. If size is not an issue for you, you can choose more unique shapes such as trillion or marquise or go with rounder shapes such as oval or select something in between like pear which has both round and sharp edges!
Choose the Setting
How center stone is place on the band will influence the overall look and feeling of the ring. You have many options and depending on what you want to reveal, you can choose from classic to modern, from popular to unconventional and from simple to royal.
A single stone Solitaire is the easiest choice and you don't have to spend too much time on choosing the right ring because this setting is universally accepted by almost everyone. It is also the most affordable among settings.
For a more unconventional setting, go with a cluster that has lots of small stones all entangled in a complex net but for a simple and safe ambience choose the Swiss setting. A cathedral is a good option for a royal fan and a trillion is perfect for a modern bride who always chooses the different.
 Choose the Band
The metal in the band complements the stone by its color, texture and shape. There are few options that can be incorporated on their own or in combination with each other which is trendy right now.
Platinum is the ultimate metal for engagement ring but white gold is the most popular and always available. Yellow gold is unique in terms of the contrast it has with the whiteness of Diamond but you have to consider her skin tone. Rose and black metals are unique but less available considering you are time-restricted for your Christmas proposal plan. Matte bands let the diamond do the sparkle while shiny metals help with the task. Band width is tricky because it might make the center stone look smaller but in a setting such as Swiss, it adds to the volume of the ring.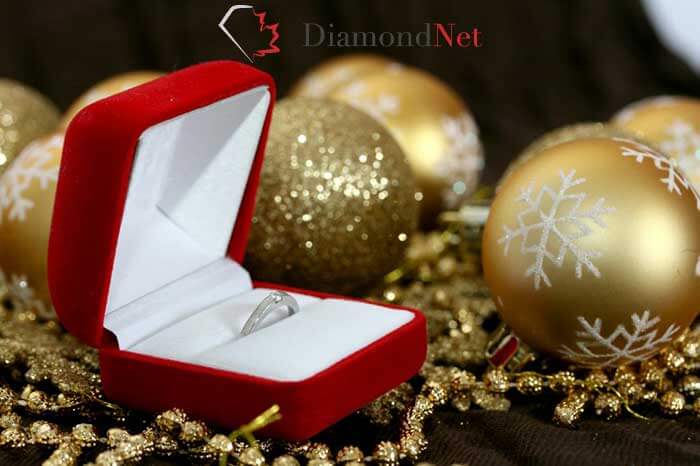 There you have it!
You can now choose the perfect engagement ring just in time for your romantic Christmas proposal. Only a Diamond ring can compliment your choice of timing. Only a right Diamond ring can represent you, your unwavering love and your absolute commitment.
There is not much time left till charismas but with the help of a Diamond Master you can make quick decisions and secure the perfect ring for your S.O. A Diamond Dealer with the largest inventory in Vancouver and wholesale prices can certainly help you go ahead with your Christmas proposal plan and reveal your love with a sparkling Diamond engagement ring.