COVID-19 pandemic is raging globally and social distancing have become norm if not yet the law! Social gatherings are assumed super spreader and there is no gathering more important than of a wedding! But it doesn't mean you can't get engaged?! With engagement season starting from now up to February, you can express your love and make marriage proposal even in the midst of a global pandemic but you will need to pick an engagement ring first.
Pandemic has also hit the economy so bad that many couples have lost their income. When shopping for engagement ring, they are more mindful of their budget and the future. It might affect their choice in terms of size and design but Diamond will always be the first choice.
Engagement ring, like anything else is influenced by annual trends and 2021 is no exception. Trends are changing because couples are driven by their emotions when it comes to selecting the perfect ring. Emotions are high next year due to long term lockdowns and people are desperately looking forward to be free again. A full year of Corona virus stress has taken a toll on their mental state and they need an outlet. There is no better outlet than an exquisite Diamond engagement ring?!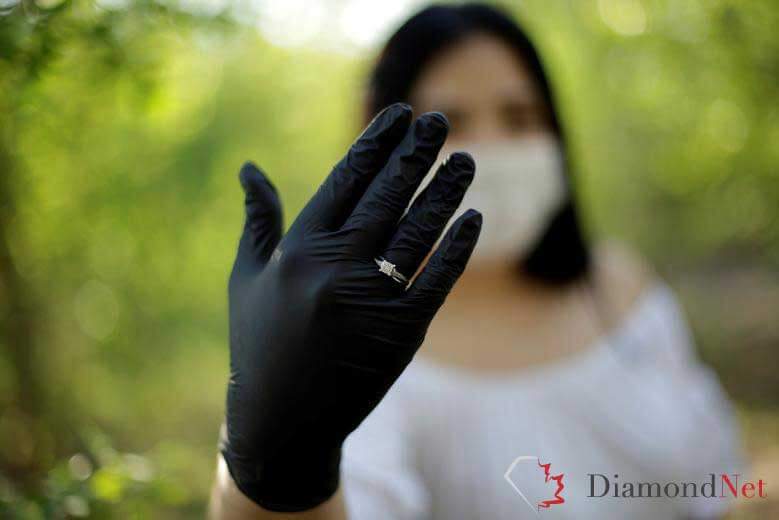 In this article, we will review 7 trends for 2021 Diamond engagement ring so if you are getting engaged in the midst of COVID-19 pandemic; you know what is changing and what your options are.
Custom Design
The customization trend that has dominated every aspect of our life will continue into the next year. More couples are getting involved in design process to put their personal touch on the engagement ring. The process is satisfying enough to channel your current emotional distress. A master jeweler with years of experience can make it easy for you to design your own custom engagement ring.
Sustainable Diamond
Ethical Diamond is nothing new for Vancouver engagement ring market because it has the most conflict-free framework in the world. The gems mined from Ekati are easily trackable at every point of supply chain and the process is totally fair trade. You can choose your Diamond ring with the peace of mind and enjoy it too.
Colored Diamond
Green, blue, pink and yellow Diamonds are back full power. They have soft pastel hues that project your delicate side. Although a defect in chemical structure makes the Diamond colorful but they are valuable nonetheless. They are unique in many ways and each color can reflect uniqueness in you.
Square Cut
Of course the always classic solitaire is still popular but square is demanding some attention too. If you don't like to have sharp edges in your Diamond ring, you can always go with cushion cut that has round and soft corners. For a more sophisticated look, choose asscher cut which has mirror-like facets to make your Diamond look larger and brighter. Emerald cut looks elegant and contained at the same time which is just perfect for a chic yet technical bride.
Halo Setting
The good old halo is back but with new twists! With ability to make the centre Diamond look larger, this setting is the perfect choice for current economic hardship as you can spend less on a smaller stone. It doesn't have to be white either; you can choose colored Diamond for the centre. The band can be detailed and even the shape of the halo is changing. There are unconventional halo settings such as starbursts and fanned-out crowns available that demand every attention.
Colored Band
Gold, rose and even black colors are taking over the ring bands. Either on their own or in combination with platinum prong, they complement every skin tone and intensify the Diamond sparkle. Black is having a big time which is not surprising. After a year of Covid darkness, people are expressing their feelings with darker colors and nothing can beat black in that sense especially if it is coupled with gothic design. Black theme is more about the bride who is brave enough to wear dark engagement ring while starting a bright future with her life partner. The edgy black rhodium or titanium is an ideal choice for this bride as they help the Diamond look brighter while revealing the edgy side of her!
Vintage Style
The old traditions might go out of fashion but they will always become trendy again and vintage rings are the best example. If you have always dreamed of Edwardian era or rococo style always attracted you, now you actually have a chance to wear it out loud. Not only vintage ring has a sentimental vibe but it is also a socially mindful sustainable choice that helps protect the environment. If you are lucky to have received a family heirloom, now it is your turn to wear it. Otherwise, you can find a rare vintage ring or even design your new ring with a vintage style! Delicate embellishments of milgrain and filigree are the perfect choice but you can also select 2 or 3 stone setting or go with elaborate halos. Add new twists to the old vintage and make it your own.

Final Thoughts
Covid-19 era will end soon but you will be left with your engagement ring forever. Don't let your social distancing desperation take over your choice.
Trends change in 2021 but you will remain you. So pick the perfect engagement ring for you, the one that express you more than others. A ring that is aligned with your character, values and of course budget. Be aware of the changing trends in the market but pick the one that is right for you.
A Diamond dealer who offers wholesale prices can help you overcome the financial and emotional pressure of your choice while choosing the best Diamond engagement ring for your personality.