International Women's Day was proclaimed by United Nations General Assembly on 8th march 1977 to celebrate the critical role of women in society and to encourage equal rights and engagements for peace. The achievement was build upon the famous protest of brave garment workers of New York against unfair working conditions in 1908.  Today, it is a global event when men and women participate to eliminate gender discrimination and to achieve the 2030 agenda goal of equal right and participation in economy.
What does it had to do with getting engaged?! In this article, we will explore the idea of getting engaged on international women's day and choosing the ideal Diamond engagement ring for the proposal.
IWD is a great occasion to propose to the special woman of your life.
Engagement season is often considered between Christmas and Valentine's Day which means this season ends just 3 weeks before international women's day! Since the dates are so close and men often want to plan a surprise proposal to their special woman, it is a good idea to do it on international women's day which is the only day in a year dedicated to women?!
Not only it will prove that she is the one you have chosen for life but also it will prove that you care about her place in your life and her equal role in the marriage you are proposing.
Getting engaged on IWD is bringing together 2 important events on personal and global levels that will align history of your relationship with history of the world.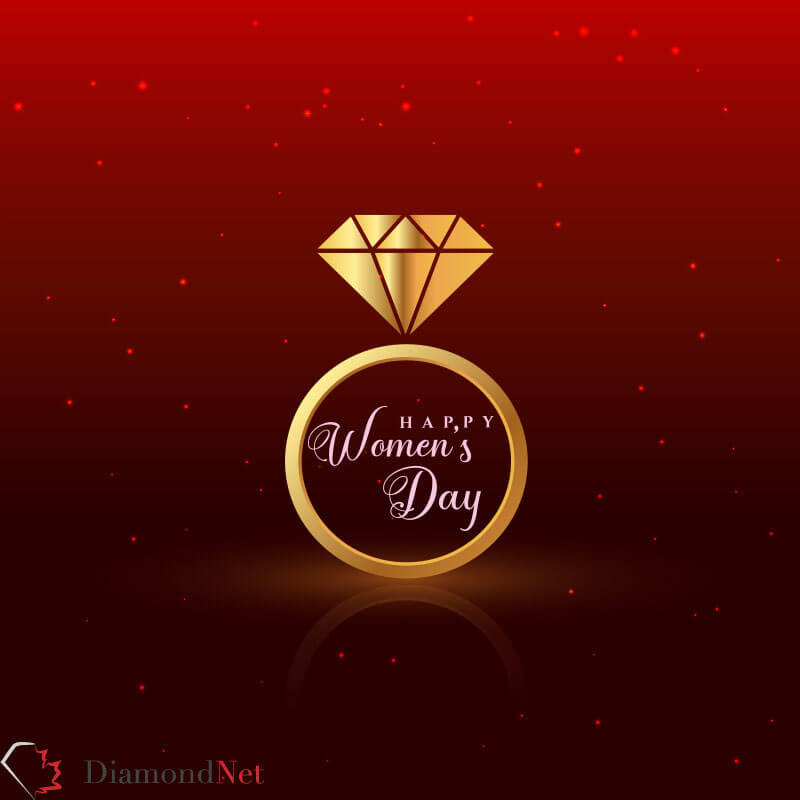 Choose the right Diamond engagement ring for the type of woman she is.
When you decide to propose on international women's day, your Diamond ring can also reflect some aspects of the day in addition to her personality. The central Diamond stone has the most power in reflecting these aspects:
4-sided Diamond cuts
If she is more of a technical person who pays attention to details and has a strong character, a 4-sided shape Diamond is the best choice for her. The emerald, radiant, asscher, princess and cushion cuts are all in this category yet they are different.
The emerald cut with rectangular shape and mirror-like step facets is probably the most technical looking of them all. It is eye-catchy, perfect for a woman who is bold, brave and outspoken. An engineer will love this cut!
The cushion cut on the other hand has its corners rounded out which projects softness despite being serious and strong. It is just the perfect cut for a woman who acknowledges both her feminine and masculine side, just like a data scientist!
There is also asscher cut which is similar to emerald in mirror-like step facets but in square shape. It looks more sophisticated and thus ideal for a woman who cares for style as much as numbers. It is the perfect choice for a CEO who has built an empire of her own.
Princess cut is a perfect square with delicate facets that project beautiful sparkle. It is the perfect choice for a woman who is graceful and delicate yet serious and to the point. A philanthropist will love the shape.
The most sparkle though comes from radiant cut which has the most facets. It is the perfection of strength and beauty just like a woman who has both the style and substance. An artist will appreciate your choice.
Sharp-pointed Diamond cuts
Sharp-pointed Diamond cuts such as pear, marquise, trillion and heart are also good options for this occasion.
The pear cut is ideal for a woman who loves traditions and conserving family values just like a farmer who carries the family business forward.
But when the number of sharp points becomes 2 like the marquise cut, it resembles a woman who is not afraid of being different and embracing the darker styles of gothic era. A fashion designer who creates lacy black dresses will enjoy the choice.
Trillion cut has 3 sharp points which is the perfection of individuality and progressiveness ideal for a space scientist!
The heart cut seems the perfect choice for both this occasion and a woman who is compassionate and brave at the same time. A doctor just fits the description especially these days when COVID-19 pandemic is raging around the globe and brave women of medicine are fighting in the front line to protect life.
Round cuts
Of course a strong woman doesn't shy away from round shape Diamonds just to prove a point! The classic round cut with complex facets in a solitaire setting is just like a ballerina who is both strong and delicate.
The oval cut Diamond resembles a woman who acknowledges the past and traditions yet is aware of the present and the modern. A woman who can make sound decisions when it is needed. It will perfectly fit in the finger of a judge.
Cathedral setting
And finally there is cathedral setting perfect for a woman with royal interests who remembers all queens who have hold the crown throughout history just to progress humanity toward new frontiers. It is the ultimate choice for a politician!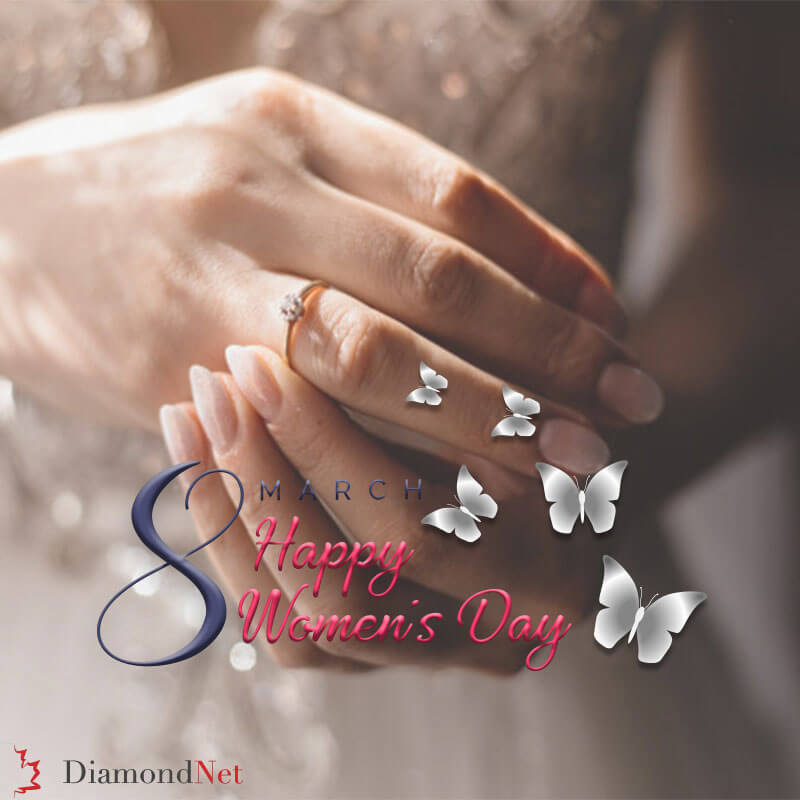 Conclusion
International Women's Day has been celebrated globally over a century for a good reason. At its core, it is about peace of the world as well as peace of the mind. It is about recognizing the equal role of half the population in every aspect of life. It is about celebrating the collaboration of both genders to build a better society and future.
Getting engaged is the ultimate collaboration on personal level where 2 people fall in love and agree to live together and build a family. They decide to work together to achieve shared goals while staying loyal to each other.
So both events bring together the male and female sides to have peace of mind and joy of heart. It is worth planning your marriage proposal for this day to align your personal choice with a global event.
A sparkling Diamond engagement ring can help you make this event more memorable and a master Diamond dealer in Vancouver can help you design a custom engagement ring that reflects her character and the purpose of International Women's Day.