Diamond Engagement ring is a bold statement on its own because it expresses the true love of two individuals who have committed to live together forever. They have decided to stay loyal to each other and build a family. The spectacular sparkle of Diamond is also a statement to reveal the fire and strength of their bond.
But sometimes you just want to have something beyond ordinary that has meaning and symbolism attached to it and attracts attention no matter what. In that case, you are looking for a statement engagement ring!
In this article, we will explore the world of statement engagement rings so you can have your show stopping Diamond ring and enjoy it too.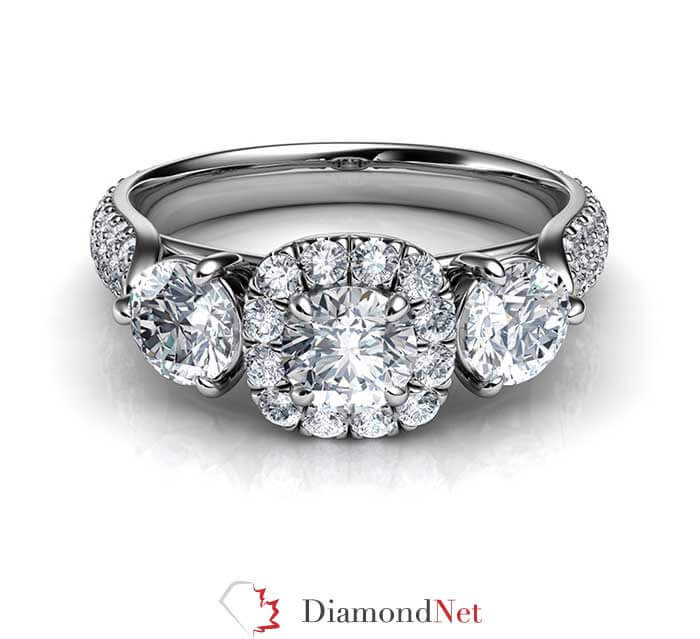 What Statement are you trying to make?
This is the main question you should be asking yourself because the statement engagement ring is really about you, your personality and your character. Your engagement ring is just a reflection of who you are … or want to be.
Your answer to this question is the defining factor in designing your statement engagement ring otherwise you would have chosen an ordinary and subtle ring that costs less!
Making a statement is always about expressing yourself, from your feelings to your ideals and beliefs. Once you have decided on your statement, you can design the perfect engagement ring by holding the same pattern in the details of Diamond, band and setting.
The other important feature of a statement engagement ring is the overall size which is visibly large and almost chunky. The overall size depends on the centre stone and metal band. You can have them both large and wide or you can focus on one and leave the other in normal size. But small accent Diamonds are also the defining factor that can add layers of sparkle to enlarge even the smallest center stones!
Then there is the Diamond which is eye catchy no matter what but its size and color make the difference between an ordinary and a statement engagement ring. Of course a large Diamond is more expensive but you can always make compromise! Diamonds are rated based on carat, cut, clarity and color and you have to decide which is more important. Then the options are presented that might have larger size than what you expected! In addition, you can use several lines of small Diamonds to make the center stone look larger. This way the ring looks even more intricate and elegant. A large shank also creates a large profile which is just what you want. Colored Diamond is also a bold statement by itself because the unique colors of pink, blue, green and especially gray and black attract attention even if they are in small sizes.
When it comes to the band, don't assume that it is just a metal to hold the stone on your finger. In contrast, it has huge impact on the statement a ring can make. The color and width of the band define the overall size in addition to look and feel of your ring. Since white and yellow gold are classic choices, going with rose gold or even black gold can make a bold statement about who you are. Choosing a wide band makes your ring look larger to the point that you might not need a very large center stone!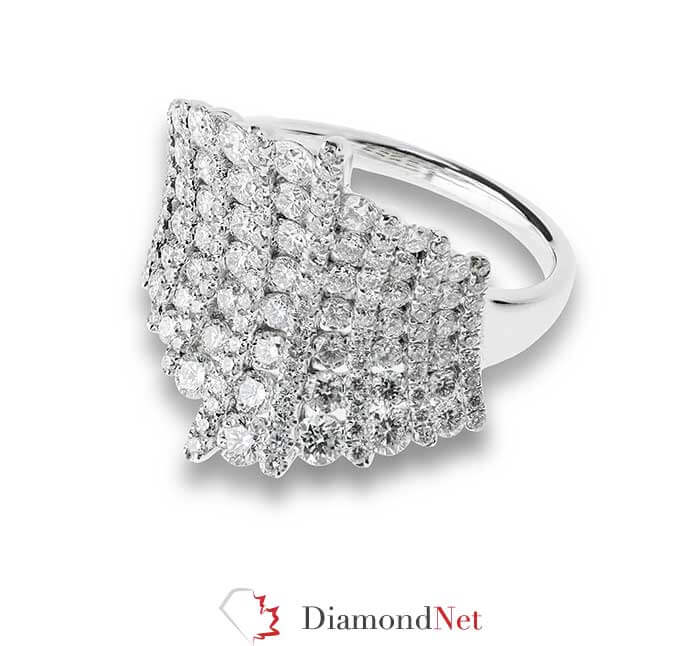 Now if you need help in making your statement, we can give you some ideas:
Traditionalism
If you are a classic person who likes traditions, then solitaire setting is the perfect choice but halo or even double halo are also great choices. Settings such as cluster, split shank and bypass can also have traditional vibe if designed carefully. If you also have some vintage or even gothic desires, then 3-stone setting or cathedral combined with intricate milgrain and filigree on the band would suit you best.
Some cuts such as pear look more traditional than others which is right for you.
Modernism
In contrast, if you are a modern person who believes in freedom and independence, then you can choose sleek and simple settings such as swiss or bar with bezeled Diamonds that look streamline and clean.
Some structured cuts such as asscher, emerald or even radiant are inherently modern and chic which make them ideal for you.
Stacked rings that have layers of Diamonds are also very trendy without the annoying twists and turns of wearing several individual rings.
Individualism
This is really about you holding your individual identity even when you are getting married. Bonding with your true love doesn't take away your identity; it just adds a new layer!
Cuts that have sharp corners such as trillion, marquise and princess are great choices. Elongated shapes like oval or emerald are also indicative of strength and individualism while being luxurious and glamorous.
Complex settings such as cluster or bypass can create the most unique pattern for your individual taste.

Final Thoughts
Wearing a Diamond engagement ring is the first statement you are making to the world that you have chosen your life partner. Then you go into details and make the statement about the nature of your relationship and your own character.
That is why a statement engagement ring is complex, just like you and your significant other! You are making the boldest statement of your life so it deserves some of your time and attention.
That is why you need to spend some time to find the right Diamond dealer in Vancouver who can deliver the exact statement you are trying to make. The jeweler should be the master of people skill as much as the master of Diamond skill so he can understand you and the complexity of your nature. If he is offering wholesale prices then you can make a bold statement with your Diamond ring without crushing your budget!
The result is a custom engagement ring that is perfect just for you and the statement you are trying to make.