Diamonds might be the most common choice for engagement rings but they can be as good on the wedding rings for men. They add style, sparkle and sophistication to your simple wedding band that sets you apart from other grooms. After all, you spend a considerable amount of time on choosing the perfect Diamond engagement ring for your significant other, why not to spend a bit more for your own wedding band?!
In this article, we will explore Diamond wedding rings for men so you gain basic knowledge of the available options and shop intelligently.
How to choose a men's Diamond wedding ring?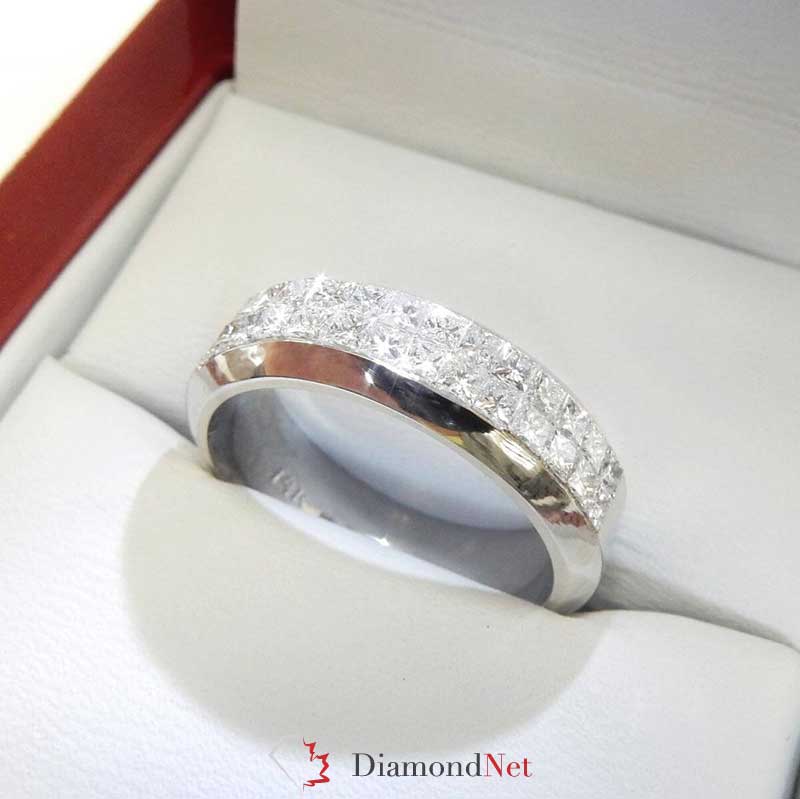 There are many factors to consider such as Diamond gem, the metal band and the way stone is placed on the band which is called setting. They all have variations that provide you with almost unlimited options to choose from:
The Diamond
It is the focal point of your wedding ring that has fire sparkling all over the place. Diamonds are graded based on the 4C's which are Carat, Color, Clarity and Cut. Carat refers to the weight of the stone, color means presence of any pigment, clarity is the perfection of the molecular structure and presence of any impurities and cut is the shape and facets created by the designer who has stripped away the excesses so the fire within the stone is revealed.
For men's wedding rings, Diamond often comes in small sizes and white color but there are always exceptions and you can customize our own ring with large and colored Diamond that has the best cut possible and the most glamour.
The Setting
How Diamond is sitting on metal band is very important as it can define a different style and influence the look and feel of your ring. In contrast to engagement rings that enjoy prong setting, men's wedding rings are often set in bezel, flush or channel styles meaning they are not elevated above the band rather they are respectively enclosed in a rim, hammered inside the band or set in rows next to each other. The stones can be set in grove design that looks very contemporary and sleek.
Of course there are his & her wedding ring sets that have exactly the same style for you and your better half.
The Metal Band
Simple metal band is traditionally the most common wedding ring for men but it can have modern style with a few changes.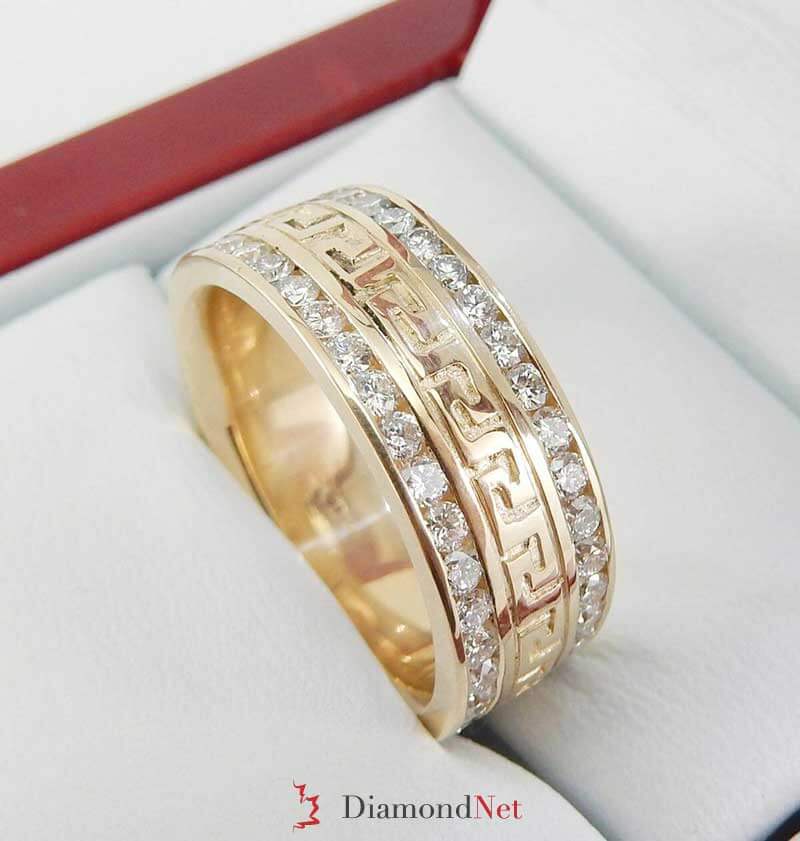 The most important factor is the type of metal. There are many great options available:
Yellow gold: the most classic style, it feels warm and looks soft. Gold is measured in Karat with 24 karat being the pure gold but it is too soft for jewelry so other metals are added to it to make it stronger. 18 karat gold has 18 part gold and 6 part other metals.
White gold: it is an alloy of gold mixed with white metals and plated in rhodium. It looks like platinum but has a lower price. The plating can be replaced after a few years or maybe a decade.
Rose gold: has copper added to the gold that gives it a beautiful pinkish color. It is a more sophisticated option that looks unique and alternative.
Platinum: one of the rarest and strongest known metals that explains its higher price tag! It is silvery white in color.
Palladium: is a white metal like platinum but softer and lower in price.
Sterling silver: it is an alloy of silver that has been mixed with other metals to make the soft silver harder. It is abundantly available that gives it a much lower price tag.
Titanium, Cobalt Chrome and Tungsten Carbide are becoming trendy as they are extremely durable and have lower prices. They can create unique and alternative styles.
The inner surface of the metal can be shaped in different ways that influences how it fits on your finger:
Standard fit: is flat on the inside.
Comfort fit: is slightly curved to mimic the natural curve of your finger.
Profile or shape of the band on the outer surface might be anywhere on the spectrum of flatness:
Flat profile: looks leveled and feels tough that projects a modern and technical style.
Domed profile: is rounded to the extremes like the letter D that creates an edgy style.
Round profile: is the in between option with slight roundness that is timeless classic style.

The metal band can have distinct edges that project different feelings:
Flat edge: it looks straight and feels sharp which is perfect for technical men!
Curved edge: it feels soft and looks nice which makes it an ideal option for easy going and free spirited men.
The metal can receive different finishes for degrees of light reflection:
High polish finish: it has a highly reflective surface that catches the attention and projects a classic style.
Matte (bead blast) finish: it feels masculine with a modern style.
Hammered finish: it has a unique texture created with jeweler's hammer that makes it very distinctive with an alternative style.
Engraved finish: it is the best way to customize your ring with texts, patterns and textures that is meaningful to you and you only. Engravings can create vintage style which is also trendy.
The band also comes in many widths:
Narrow: is around 4mm that is the most classic.
Wide: is up to 8 or 9 mm that looks modern.
Diamond wedding ring might be the only piece of jewelry you'll be wearing in your life so it deserves a bit of your time and attention to be the perfect one. Even if you wear other jewelries, wedding ring is the most important one that will be with you forever as the main accessory.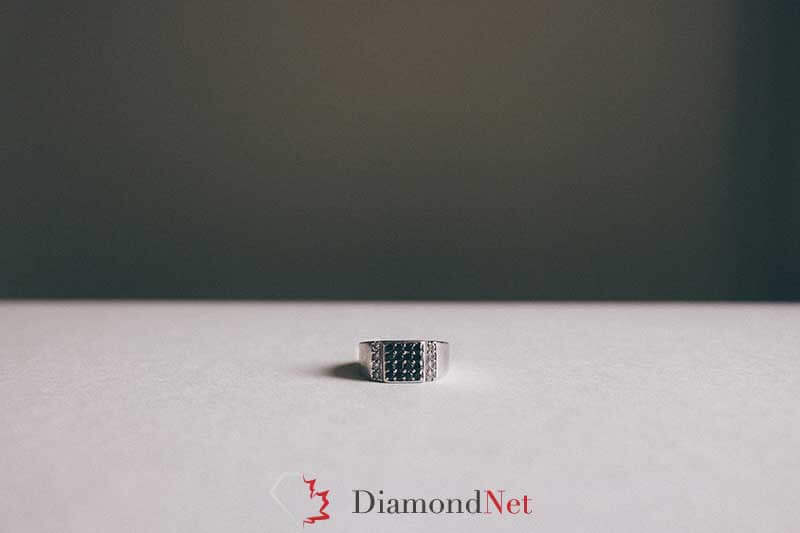 Choose the overall style based on your personality and wear what feels right for you. Traditions and trends are good for inspiration but you could and should design your own wedding ring that has your personal touch.
An experienced and knowledgeable Diamond dealer in Vancouver can help you customize your wedding ring to perfection so it will be as unique as you are. You will be presented with a large inventory so you have many options to choose from. You are provided with the best sizing so you won't need resizing in the future. You will be instructed on cleaning and maintenance to keep the original look of your wedding ring for many years to come. You will be guided on insurance to protect your investment forever. You are offered wholesale prices to save your budget.