Diamond Ring is beautiful and graceful no matter if it is an engagement or a wedding ring. It reflects the light from your finger and shines it through your eyes but it also reveals a lot about your heart! You choose the shape of your Diamond ring subconsciously which is the reflection of who you truly are.
Of course a Diamond ring has many details that together form the overall shape. The gem itself, the setting of it on the band and the metal all influence personality of your ring.
In this article, we look at different shapes of Diamond ring and investigate what they reveal about your character so you can better understand them and choose the perfect match.
The Diamond gem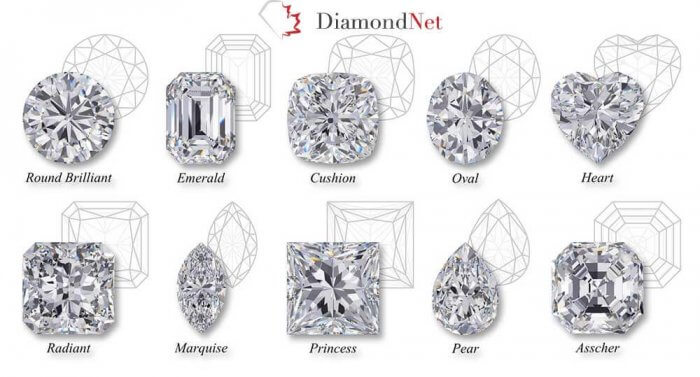 Diamond is the most popular gem in the world, chosen for engagement ring or wedding. The name is taken from the Greek word 'adamas' meaning unconquerable. The gem is the symbol of love and faithfulness that never breaks. It comes in different geometric shapes and cuts. Some are more popular than others but all of them have their own personality which reflects the personality of who wears them:
Round
As timeless and multifaceted as this classic shape is, you are definitely a sincere person who believes in never ending love and enjoys all the sparkle that comes with it. You are faithful at heart and you demand loyalty.
Oval
With one foot in classic world and one foot in modernity, you are a creative individual who enjoys romance and partnership and yet doesn't give up on personal goals and ambitions.
Pear
Still traditional and romantic yet you are a strong individual who admires modernity in a peaceful manner.
Heart
Definitely the most romantic and feminine of them all, you are sentimental and passionate as one can be.
Marquise
Always expressing individuality and personal purpose, you still love romance in a very dramatic way.
Trillion
With strong expression of your individual desires and ambitions, you are well balanced. Yet, you don't shy away from revealing your sharp edges!
Cushion
Maintaining a soft attitude toward past and present, you embrace the contemporary but you are not letting go of classicism or romanticism yet. You have distinctive boundaries and you definitely are trustworthy.
Princess
Revealing your sharp edges with grace, you are bold and brave who is a risk taker in a fancy and delicate way.
Asscher
You are the always chick, elegant and contemporary one who has an eye for luxury and royalty. Yet, you long for romance in a very sophisticated manner.
Radiant
Not afraid to set yourself apart from others, you are unwavering in your pursuit of modern trends.
Emerald
Strikingly attractive, you don't hesitate to show your technical side while maintaining elegance and grace.
The setting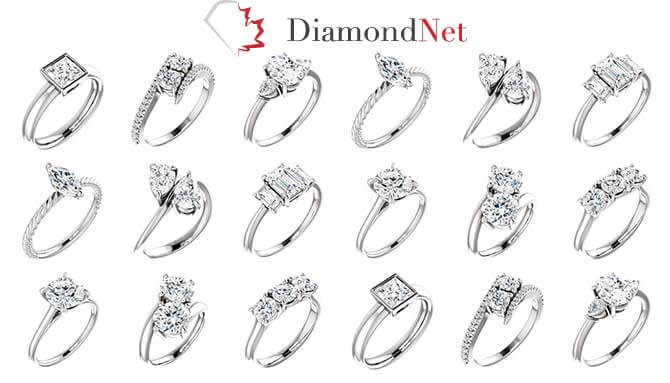 Your Diamond ring is mainly about the stone but the way it is secured in a metal band has great impact on the look and feel of your ring:
Solitaire
You sure know how to show off your assets and skills in a safe and secure way!
Channel/ Pavé
You love details with lots of sparkle that attracts even more attention.
Halo
Not only sparkle but sophistication is your thing. You love surrounding yourself with people who absolutely love you.
Three-stone
You don't like to complicate things too much. A main goal with two hobbies are just enough for you.
Two-stone
You like everything in pairs and certainly you love to have twins?!
Cluster
Big sparkle in a smart cost-effective way with great details is your thing.
Bar
Not trying hard to show off, you love quiet power of delicate shiny luxury.
Swiss
You love straightforward simplicity that provides the most safety and security.
Cathedral
You love royalty and luxury with intricate details. Victorian era is your favorite historical time.
Bypass
Curves, twists and soft movements are your way of expressing yourself.
Split shank
You love to have more options, at least two and are not afraid to try them all.
The band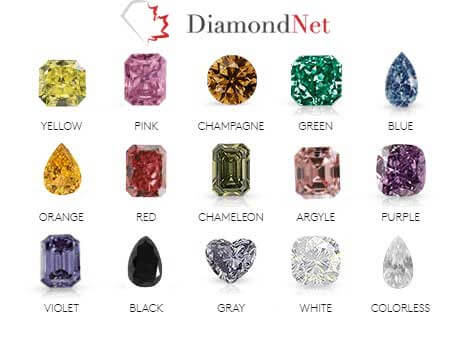 A Metal band is safe guarding your Diamond gem but its color, form and finish talk more about you than the gem:
White color
Cool and classy, you always go for the unconventional.
Yellow color
Traditional in your heart and mind, you are not afraid of wearing flashy and bold things.
Rose color
Sophisticated and risk taker, you choose the unknown and never fear experimenting.
Round edge
You approach everything peacefully because you are soft and delicate in nature.
Knife edge
Edgy and direct, you don't hesitate to talk your mind.
Polished finish
You love sparkle on top of sparkle no matter what!
Matte finish
Individuality is more important than showing off your sparkles.
Embellished
You are delicately detail-oriented and romantic by all means. You secretly wish to have lived in the Edwardian era! Lacy clothing is dominant in your wardrobe. Either floral or geometric decoration, you just can't accept simple and smooth textures and will engrave even a little thing everywhere! Shopping vintage is your weekend project.
Final thoughts
Diamond Ring is precious no matter the shape. It is reminder of the union you formed with a person you love. It is the symbol of your commitment to a lifelong relationship. But it also says a lot about you, your character, your hidden desires and that is a good thing. It is like a door to your heart where you keep your real dreams. Your choice helps you understand yourself so you can align more with your true desires. The shape of your Diamond ring reveals you to …you.
A professional Diamond dealer is also a good people person who understands your personality and can help you choose the best matching custom Diamond ring.